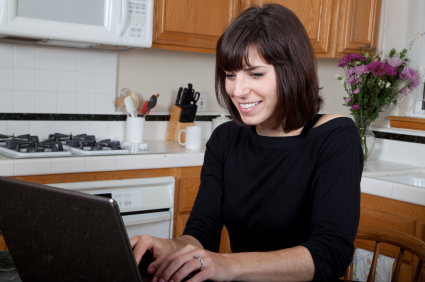 Picture this: for your next job interview, you might be alone in a small, quiet room speaking to an LCD display. Your prospective employer may be one of a growing number of companies that recognizes the benefits of conducting interviews over the Internet.
Web camera interviews are more personal than phone interviews, and open access to a global talent pool while reducing travel costs. There are other benefits for both the employer and the job candidate. Both can see how the other person responds during conversation and gain a better sense for one another's personality, communication style, confidence, and other nonverbal cues lost during phone interviews.
The digital interview also introduces technological components beyond traditional interview practices. You'll likely be evaluated on how comfortably you can navigate the technology in a professional setting, especially if you're interviewing for a telecommuting position such as web developer, computer programmer or software engineer. You'll attract the attention of your prospective employer by demonstrating competence with the digital interview technology.
The program most commonly used by hiring professionals for the online interview process is Skype, an Internet-based telephone and video service that started in 2003. Users create a free Skype account and then, over a high-speed Internet connection, communicate with other Skype users through computer media devices, such as a web camera, microphone, and speakers.
While the technology used is not considered advanced, you have several factors within your control to influence the outcome of a digital interview, including setup of the environment, quality of the equipment used, and professional behavior. Below are some important tips for your next digital interview that could make a big difference in helping you land the job.
Details of the Environment
Set up computer equipment in a quiet location for the interview
Avoid noises coming from music, TV, pets, traffic or construction noise
If the room's background is in view, tidy up as needed and keep it looking presentable
Make sure the lighting source in the room is sufficient for the time of the interview
Use indirect light in front of your face (not coming from behind you)
Working with the Technological Components
Video:
Test the quality of your web cam; if quality is poor, consider borrowing an alternate web cam
Position the web cam to find good lighting and a flattering angle, but not too close
Take note of how your face appears on your monitor, or ask a friend for feedback
Audio:
If possible, use an external microphone to improve the audio quality and to avoid picking up unwanted sounds or echo from the speakers
Test the audio levels by speaking into the microphone just as you will during the interview
Pay attention to your vocal volume and clarity
Internet Connection and Computer Operation:
Test the speed of your Internet connection
Make any adjustments that will optimize its performance, such as quitting unneeded applications that use up bandwidth
Practice the entire process in advance with a friend, including receiving and making calls through Skype, until you feel confident in your ability to operate every component. Be ready to address unexpected interruptions with professionalism, just as you would if speaking with a customer or client, to show how you would handle yourself in a real life situation.
Professional Behavior to Remember
Dress professionally as if you were interviewing in person, and avoid wearing white because it can appear too bright on camera and wash out facial details
Create quick access for yourself to important documents, such as your resume, references, portfolio and a calendar to schedule another potential appointment
Keep a phone close by as a backup in case there are issues connecting from either end
Connect with the hiring professional on time, and keep time zone differences in mind
Resist the temptation to watch yourself on the monitor
Find opportunities to look directly into the web camera to give the appearance that you're looking into the interviewer's eyes
Smile and put your best foot forward–remember you're not merely in a room by yourself talking to a piece of equipment
Stay focused on the interview and avoid checking email, Facebook, etc.
Refrain from doing anything distracting like swiveling or rocking in your chair, tapping fingernails or a pen on the desk, or jingling noisy jewelry
Keep water close by in case your nerves give you a dry mouth
In addition to these important digital aspects, be sure you remember to incorporate all the interview essentials you already know, including conducting proper research of the company and the position. Show your prospective employer you're prepared for the interview and have serious interest in the position by having a list of written questions to ask. Also be sure to follow up with a brief correspondence thanking each person who conducted the interview.
What are some positive experiences you can share about digital interviewing? Do you recall any factors from your participation in a digital interview that helped you get a job?